HVM Community Health Worker Certification Curriculum
Wednesday, 15 March 2017 15:12
HealthVisions Midwest has been a proponent of Community Health Workers (CHWs) as part of a health care team for over 10 years. The CHW is a trusted member of the community and plays a vital role in the healthcare system. A CHW is known by many different job titles and roles.
The Indiana Community Health Worker Association (INCHWA) organized to promote, support and give the CHW voice through education and advocacy. To this end, INCHWA is certifying curriculum of training vendors "that has been formally reviewed for alignment to national and State standards.
HealthVisions Midwest is announcing that effective March 1, 2017 it has a 40-hour curriculum that has been CERTIFIED by INCHWA. It is the first in the State of Indiana. The first CCHW training is scheduled for the first week of April, 2017 as part of an 18-month Skill Up Grant.
For more information on Certified Community Health Worker training please contact This email address is being protected from spambots. You need JavaScript enabled to view it. or call 219-844-2698 x 102.
Nursery Items Destroyed In East Chicago Fire
Thursday, 04 April 2013 09:50
Several East Chicago businesses were destroyed in a huge blaze March 9, a fire that also consumed hundreds of car seats, cribs and supplies meant for high-risk and medically high-risk mothers-to-be. HealthVisions Midwest, Inc, a faith-based community health organization sponsored by the Poor Handmaids of Jesus Christ, has been active in Lake County since 1998.
Offering programs ranging from breast/cervical cancer prevention to older adult services, HealthVisions Midwest also offers prenatal care coordination assistance and services free-of-charge to pregnant women in East Chicago and surrounding communities. The program, known as, Promotores de Salud Maternal e Infantil was seriously affected by the fire, which destroyed thousands of dollars in new supplies and nursery furnishings. Among the losses were hundreds of car seats, strollers, pack and plays, crib sheets, receiving blankets, onesies, diapers, wipes and infant toiletries scheduled to be distributed to mothers in the program and surrounding community.
Living a Healthy Life Update
Tuesday, 12 March 2013 07:32
HealthVisions East St. Louis completed its fifth "Living a Healthy Life" workshop that was conducted at Unity Lutheran Church, located at 42nd & Caseyville in East St. Louis. Ten participants completed the six sessions including Pastor Willie Stallworth. Like all of the other individuals at the other churches, Unity Lutheran's participants were just as enthusiastic about the workshop.
Living a Healthy Life-Live Well, Be Well is a six week group education workshop series for adults living with a chronic condition. The Patient Education Research Center at Stanford University developed the program to help people with chronic conditions gain self-confidence in their ability to manager their health. The sessions provide information regarding issues related to a variety of conditions - diabetes, heart disease, stroke, arthritis, emphysema and many other health problems.
Governor Frank O'Bannon Award
Monday, 17 December 2012 14:40
Covering Kids and Families of Lake County is proud to nominate Donald Barnes for the Governor Frank O'Bannon Award.
Don is a highly intelligent, perceptive partner within our community. Don is the President and CEO of HealthVisions Midwest. He always strives to build healthy communities by reducing health disparities among the poor and underserved. Don strongly believed that people are empowered to improve their own health when individuals possess the knowledge and resources to do better and this includes having health coverage. Don has provided service to the Lake County community for the past thirty years and he has been an active member of CKF-Lake for the past 10 years.
Health Vision of Ft. Wayne
Monday, 15 October 2012 13:41
HVFW Community Educator Zenaida Velez-Chandler provides chronic disease training for staff and community leaders in San Juan, Puerto Rico.
The Allen County Health Disparity (HealthVisions of Fort Wayne) has gone international with its Diabetes Self Management Program and Chronic Disease Self Management Program! The IMHC affiliate created a partnership with Puerto Rico Department of Public Health (PRDOH) to provide staff training for the two chronic disease programs to target the Latino opulation. Both programs are evidence based program of Stanford University Patient Education Programs. HealthVisions Community Educator Zenaida Velez-Chandler traveled to San Juan, Puerto Rico in July to begin the series of trainings.
"This is an incredible opportunity to expand our community capacity to better address diabetes and other chronic disease in Allen County" said Renetta Williams, HealthVisions Director. After completing the series of trainings in Puerto Rico Zenaida will receive certification as a CDSMP Master Trainer in both English and Spanish in two self-management programs.
Community & Science Award
Monday, 02 April 2012 11:19
HealthVisions Fort Wayne (HVFW) received the Community & Science Award for the work they have done in collaborative community engaged research. This award was given at the Indiana Community Health Engagement Program's (CHEP) 4th annual meeting on March 20, 2012 in Indianapolis. CHEP's mission is to promote collaboration among community partners throughout Indiana to improve research, health and health care. HVFW conducted a number of community based participatory research projects for them on Diabetes, Black Infant Mortality, Health Issues of Black Men, Health Literacy, and are presently working on a Food Study Project.
Our Values in Action
Monday, 02 April 2012 11:18
The Alcance program recently encountered a grandmother in need of services. She has been raising her autistic grandson since her daughter in-law passed away. The Alcance program often receives diapers for older special needs children. Since we had an abundant amount, we wanted to give them to someone in need. The grandmother was presented with the diapers and a bag of groceries from our Community Healthcare Worker (CHW). The groceries were donated from the local food pantry for a needy family. The Alcance program has been blessed with many donations that we are happy to share with the community.
Mission in Action
Monday, 02 April 2012 11:15
Usually, when we think of our "mission in action", we think of the many clients we are serving. Sometimes our greatest ministry is to our very own staff. This past year, we have had a great example of living the mission by helping and praying for Nureya Miller who is a senior accountant here at HVM office in Hammond. Last year, Nureya was diagnosed with breast cancer. She gallantly endured months of chemo and then surgery. During that time, a number of staff donated their PTO days to her so she would not lose her pay. Others in the finance department stepped up to help her with some of her work. She, on the other hand in spite of weakness and illness, continued to do her work at home whenever possible. Lately, she would even come into the office after hours to do some work. She always has a positive attitude and a ready smile. Our prayers go out to Nureya as she continues to heal.
Thank You to Board Members
Monday, 02 April 2012 00:00
Four of our long standing Board members truly reflect "Our mission in action". Sr. Mary Jo Shingler, former chairperson, Sandy Gleim, from Healthy Communities of LaPorte, Martin Judd, CEO of Our Lady of Resurrection Medical Center in Chicago, and Dave McCormick, from Indiana Health Department, have given many years of dedicated service to HVM.
We are sorry to see them leave the board but they leave behind a long history of dedication to HealthVisions and the mission of the Poor Handmaids. They not only reflect our mission but they have given service in reducing health disparities in their own local communities.
Thank you for helping HVM grow into a vibrant organization. We appreciate all you have given us and look forward to having you work with us again in the near future
Mission Moment
Thursday, 22 March 2012 00:00
Sometimes we get so caught up in our daily activities that we forget why we do the ministry that we do. Last Friday God decided to send a reminder to help me keep perspective. I was sitting at my desk and heard someone ask if I was in the office. I was told that someone wanted to see me. To my surprise it was one of our seniors that we provide transportation for medical appointments. She had asked the volunteer driver who just happened to be my husband to bring her by the office because she wanted to see me and thank us for being there when she needed a ride several years earlier. She wanted to thank us for the work that we do because she said she really needed it and we had been there each time she needed to go for her appointments in St. Louis. She said that there would not have been any other way for her to get to the doctor had we not been able to take her. She gave me a great big hug and we both laughed. I was very surprised to see her. We chatted for a few minutes and she updated me about her current medical condition and said she would be sure to give a donation by the end of the month. She reminded me that we will have to hold it until the third of the month when she gets her check but she wanted to make sure that she donated because we had been so good to her. Before she left, she again gave me a great BIG hug and I gave her one too. It was so good to see her again and she blessed me by sharing how grateful she was for the ministry.
That same day I received a call from a senior who is 80 years old and had registered for transportation but had not used it. She asked to speak to me and talked a long time about how important the ministry was to her and other seniors in the community. She said we just did not know how difficult it is for seniors to get around in the community for transportation services to the doctor. She thanked me over and over again for the ministry being here. She said that she knew a man who was 91 years old and was blind that needed to go to the VA in St. Louis and had actually gone blind because he could not get transportation there to keep his appointments. She wanted to know if we could help him and I assured her that we could. She was thankful and said that she was going to see if she could have a friend come by her house to pick up a $5 donation to give us just for being here for other seniors. We talked for a long time and she told me about her life in the area. I realized that she not only needed transportation, but just someone to talk to and listen to her. After she had said all she wanted to that day, she said, I'll let you get back to your work." She didn't realize I had been doing my work all along while I listened to her.
These are just two reminders of why we do what we do. Sometimes we need reminders. I thank God for these two angels He sent to remind me. I wanted to share with you because I know you have angels to. Sometimes we may fail to realize who they are and how important their calls and visits are. At times we may even see them as interruptions. But for those of us who are in ministry to serve God's people, these reminders and moments of reflection are so important.
Paula E. Wills, LCSW
HV East St. Louis
Living a Healthy Life Continued
Monday, 12 March 2012 10:24
It just keeps getting better, better in the sense that we are reaching more people as we strive to build healthier communities. HealthVisions East St. Louis completed another workshop with members of New Bethel Baptist Church, located at 5803 Belmont Avenue in East St. Louis, where Rev. Myron Taylor is Pastor. We are extremely proud to report that fifteen enthusiastic individuals received certificates of completion in the fellowship hall of the church, Thursday, March 1, 2012.
PUC Hosting Public Health Training Session
Monday, 12 March 2012 00:00
Story by Times Staff
CROWN POINT | The Purdue University Academic Learning Center will host a one-day training session on public health issues.
The full-day session, Shaping Policy for Health: Competency Based Training Program, is Tuesday, sponsored by the Directors of Health Promotion and Education in collaboration with the Indiana State Department of Health and the REACH/Alcance Program and Coalition at HealthVisions Midwest.
The session starts at 8:30 a.m. and ends at 4 p.m. Participants will have a one-hour meal break.
Empowering Fort Wayne Communities To Self-Manage Diabetes
The Self-Manage Diabetes class is designed to reach the African American population in selected regions of Fort Wayne. HealthVisions of Fort Wayne partnered with churches, senior citizens housing, and organizations to offer the program.
Community Health Workers facilitate the educational sessions and support groups, providing one-on-one attention and follow-up with program participants. The program utilizes the Stanford Diabetes Self-Management Program (DSMP) curriculum and materials. The curriculum is designed to reach adults 18 years and older, and includes topics on diabetes selfmanagement and chronic disease in a six week session.
A young woman that attended the class had just been diagnosed with type 2 diabetes. She was very much in denial and thought this was like a death sentence, due to all the uncertainty and challenges she was facing. Three weeks into the six week session, Maria shared a heartwarming
testimony; a success story that reflects the benefit of setting small goals and developing a personal "Action Plan." Maria's action plan consisted of exercise by walking in the mall once a week for 30 minutes. She was exuberant as she shared her progress with the group. She and her sisters had visited the mall and walked for 2 hours, without stopping. She was surprised when she was not short of breath nor had any pain
in her legs. Not only had she exceeded her exercise goals, she incorporated healthy eating into her action plan, lost 15 pounds in three weeks and also got a job. She admitted that when she first came to our class, she was without a job had no resources to sustain the
family. Her son had lost his job and she felt the world problems on her shoulders.
Now Maria is on a mission to inspire the young ladies she mentors and be a role model showing them what can be done when you have the tools needed and are empowered to change your life.
Mother's Appreciate Support Group
On Thursday December 22, 2011 the REACH/Alcance Program's Mother Support Group held their Annual Christmas party. The mothers were presented with many gifts sponsored by Manage Health Services, Poor Handmaids of Jesus Christ and HealthVisions Midwest. Each Mother learned about "Stress Management" by Nurse and Health Educator Maria Zendejas of Healthy Start in East Chicago. The Mothers enjoyed a potluck lunch and also received a lesson in Zumba to help with stress management.
Women who are pregnant have a long list of stressors, from first trimester morning sickness to third trimester swollen ankles. This is in addition to the emotional stress of preparing to add a new little person to the family and all the changes brought about in the life of an individual, in the life of a relationship, and in the life of a family. The REACH/Alcance Program provided them with Prenatal Classes during the Holiday Season.
Our Lady of Perpetual Help Diaper Drive
Our Lady of Perpetual Help parish in Hammond, IN had a diaper drive for our maternal child health program.
Connie Leal at Promotores describes how this donation helped her.
"The diapers that you gave us came right on time. As much as I support and push for breastfeeding, there are some moms that will have no part of it. So if we need too, we will give them formula if we have it. The other day a young lady came in with a good amount of formula that her baby refused to drink. So, she started to exclusively breastfeed. She was in dire need of size 3 diapers. Unfortunately we had no size 3. So when you gave us the diapers we called the mom and gave her the size three. Again, thanks."
Living a Healthy Life
East St. Louis completed its third "Living a Healthy Life-Live Well, Be Well Workshop" Thursday, October 6, 2011. The site for the workshop was Pilgrim Temple CME Church located at 1800 Trendley Avenue in East St. Louis, Illinois.
Living a Healthy Life is a six week education workshop series for adults living with a chronic condition. The Patient Education Research Center at Stanford University developed the program to help people with chronic conditions gain self-confidence in their ability to manage their health. The sessions provided information about issues related to a variety of conditions – diabetes, heart disease, stroke, asthma, arthritis, emphysema and many others.
We are proud to report that thirteen participants including Pastor Hattie Loving Smith completed the workshop and received certificates of completion. The participants were very eager to learn different ways to manage their chronic conditions and showed it by their attendance and completing their "actions plans" each week. By the end of the workshop participants reported improvement in their mobility, lowering of their blood pressure and blood sugar, weight loss from changing eating habits and exercise.
Participants who completed the Living a Healthy Life-Live Well, Be Well at St. Augustine Church had their six month reunion. The participants shared their success stories in how they continue to use the self-management tools learned in the workshop. Members reported they lost anywhere from 10 to 26 pounds, lowered their blood pressure and blood sugars and had an overall improvement in their general health. Their physicians were very pleased with their progress and encouraged them to continue using the tools. Another reunion is planned in six months and members renewed their commitment to improve self-management of their chronic condition.
Sponsors and cooperating partners include Area Agency on Aging of Southwestern Illinois, St. Louis Area Agency on Aging and HealthVisions of East St. Louis.
Black Student Union (BSU)of Calumet College
The Black Student Union (BSU)of Calumet College of St. Joseph in Whiting, IN chose HealthVisions Midwest (HVM) for their community service project. They collected newborn baby items throughout the month of December for HVM's Maternal Child Health programs in East Chicago and Gary. We and the many women we serve are so grateful for their generosity.
Pictured: (Left to right) BSU President, Krystal Williams, Mrs. Angela Wells, and Dr Jessica Madden present the donated items to Sr. Annemarie Kampwerth of HealthVisions
Food Justice In Local Low-Income Neighborhoods
Upping the access to healthy foods in low-income areas, that's LaDonna Redmond's challenge to all.
"Health disparities impact the community at higher rates and generally those chronic diet-related diseases are hypertension and some forms of cancer" says Redmond, Senior Program Associate for the Institute for Agriculture and Trade Policy.
Diaper Bank space and volunteers needed!
Ahealthy change of diapers costs at least $100 per month. Approximately 2,700 babies are born into poverty every day in America.
Let's get to the bottom of this!
Diaper Bank space and volunteers needed!
Those living in poverty and crisis share a basic, primary need – DIAPERS. This is a critical issue for vulnerable newborns and infants who are unable to help themselves.
The impoverished mother who could only afford to change her baby's diaper twice a day had to resort to emptying and using the same diaper again.
Designate your church, temple, place of worship, or organization as a resource for diapers that are collected, stored and distributed – not directly to individuals, but to charitable, partnering agencies that have already identified and processed the people in need.
To learn how you can volunteer and be a site for the diaper bank in Northwest Indiana, contact Sr. Annemarie Kampwerth, PHJC, at HealthVisions: (219) 844-2698 or
Thank you.
Free breast, cervical exams available, but many don't show up
Story by Kathleen Quilligan
HAMMOND | Quinnesia Bell realizes women who use Indiana Breast & Cervical Cancer Program services have a lot on their minds, and their health may take a back seat.
But they won't get the comfort early detection could provide if they don't show up to their appointments.
Bell, regional coordinator for the program run by HealthVisions Midwest, said women not showing up for the free exams has been a problem since she started with the program about 10 years ago.
"From my experience, the main reasons are lack of education about breast cancer and preventive health care, fear of a breast cancer diagnosis, discomfort and pain from actual mammograms and not making themselves a priority," Bell said. "The population that we serve in (Northwest Indiana) are faced with many socioeconomic challenges. So oftentimes those challenges are their focus, and not preventive health care."
The goal of the program is to ease women's concerns by providing free, routine annual exams and treatment. Bell said her region includes Lake and Porter counties and Michigan City. The services are available to women at 150 percent of the poverty level.
The exams and treatment are provided by about 30 providers throughout the region, including most local hospitals.
The program goal for the year of getting 1,000 women screened has been met, with 1,004 screenings so far. Bell said education about the importance of screenings is crucial for the program — and making sure women show up for appointments.
"There's a lot of fear and stigma that turns a lot of women off," Bell said.
The program provides screenings for women age 40 to 64, but breast screenings and mammograms are available only to women age 40 to 50 who may have problems, as stipulated by funding guidelines from the state and the National Breast and Cervical Cancer Early Detection Program. The Pink Ribbon Society, however, has provided more than $70,000 in the past eight years to underwrite the cost of mammograms, society member Marie Bates said.
Along with education, Bell said women in the program are sent reminder cards for appointments, and a case manager works with all abnormal cases to help women receive needed services.
To make an appointment for a screening, call (219) 844-2698, ext 104. Women are pre-screened by phone and referred to a provider. Women who are insured are accepted if they haven't met their deductible for the year or if their plans don't cover annual exams or mammograms, Bell said.
---
This article was originally published in The Northwest Indiana Times.
Healthy in Any Language
Story by Times Staff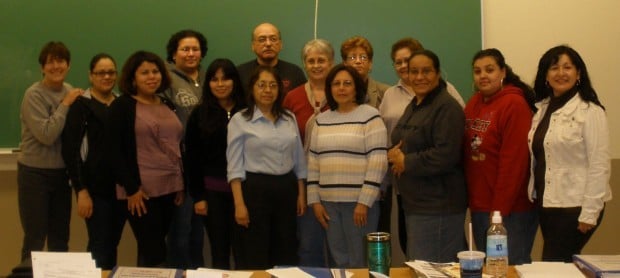 Participating in a recent course to train professional English/Spanish medical interpreters are, front row from left, instructor Maria Schwieter; Susana Jimenez, of Hammond; Jessica Starkey, of Hammond; Isabel Reyes, of Porter County; Mary Ellen Castello, of Gary; Maria Anaya, of East Chicago; Noemi Orellana, of Hammond; Carmen Vazquez, of East Chicago; Lillian Torres, of Hammond; back row, Brenda Osoria, of Valparaiso; Jose Valtierra, of Merrillville; Bilke Rode, of East Chicago; Sylvia Morrisroe, of Lake County, and Maria Watkins, of East Chicago.
CROWN POINT | The REACH/Alcance Program, in partnership with Area Health Education Center and HealthVisions Midwest, held a five-week medical interpreter course this spring at the Purdue University Learning Center.
A total of 13 area health care workers and medical technicians from agencies ranging from Moms Taking Charge in Lake County to Healthlinc in Porter County were trained in medical terminology for the purpose of providing medical interpreting for their prospective agencies in Spanish and sustainability of language availability.
The curriculum consists of the basic requirements to become a professional English/Spanish medical interpreter, and the instructor, Maria Schwieter, is a RN, BSN, MSE, BTG, and the Spanish interpreter/educator at IU Health La Porte Hospital.
The students learned about the cultural aspects of interpreting, memory training, folk medicine, note taking, basic anatomy, physiology, medical terminology, roles of the interpreter and the purpose of the medical interpreter.
Racial Ethnic Approaches to Community Health for Lake County (REACH/Alcance) aims to improve the health of all racial and ethnic populations in Indiana through increased awareness, partnerships, and the development and promotion of effective health policies and programs that help to reduce minority health disparities.
Meetings are held from 11:30 a.m. to 1:30 p.m. the fourth Wednesday of every month. For more information, call (219) 844-2698 or visit reach-alcance.org.
---
This article was originally published in The Northwest Indiana Times.
REACH/Alcance Program partner with agencies to create new medical interpreter course
From left to right front row: Maria Schwieter, Susana Jimenez, Jessica Starkey, Isabel Reyes, Mary Ellen Castello, Maria Anaya, Noemi Orellana, Carmen Vazquez, Lillian Torres ; From left to right back row: Brenda Osoria, Jose Valtierra, Bilke Rode, Sylvia Morrisroe, Maria Watkins
Contributed by Lillian Torres REACH/Alcance Program and Coalition;
HAMMOND | On March 18, the REACH/Alcance Program in partnership with AHEC (Area Health Education Center) and HealthVisions Midwest held a 5-week Medical Interpreter course at the Purdue University Learning Center in Crown Point, IN.
Thirteen area Healthcare Workers & Medical Technicians were trained in Medical Terminology for the purpose of providing Medical Interpreting for their prospective agencies in the Spanish and sustainability of language availability.
The curriculum consists of the basic requirements to become a professional English/Spanish medical interpreter. The Instructor, Maria Schwieter, is a RN, BSN, MSE, BTG, and the Spanish Interpreter/Educator at IU Health La Porte Hospital.
A variety of topics were covered including the National Standards of Practice and Code of Ethics as dictated by the National Coalition Interpreters Health Care. The students learned about the cultural aspects of interpreting, memory training, folk medicine, note taking, basic anatomy, physiology, medical terminology, roles of the interpreter, and the purpose of the medical interpreter. This course is designed for people who wish to learn how to become Medical Interpreters for Spanish/English.
The course duration is 40 hours of classroom training.
REACH/Alcance: Racial Ethnic Approaches to Community Health for Lake County Purpose/Mission Statement is to improve the health of all racial and ethnic populations in Indiana through increased awareness, partnerships, and the development and promotion of effective health policies and programs that help to reduce minority health disparities.
In addition, the office: Coordinates, facilitates, and monitors community-based program tailored to meet the needs of these populations. Ensures that health related issues become part of the agendas of outside programs as they relate to underserved populations.
Maintains open dialogue with outside agencies in an effort to keep abreast of concerns, trends and problems as seen by these agencies which will assist in identifying gaps, barriers and duplication in services.
---
This article was originally published in The Northwest Indiana Times.
In East Chicago, Moms Are Taking Charge
(From left) Jimies Hagan talks with Moms Taking Charge Family Support Specialist Stephanie Parr about her program aimed at supporting single mothers
Story by Damian Rico
EAST CHICAGO | A mother's job is extremely difficult. They must be disciplinarians, leaders and role models to their children and some are forced to do it alone.
But in East Chicago, Moms Are Taking Charge.
Moms Are Taking Charge, 100 W. Chicago Avenue, is a new initiative designed to assist single moms with young children and women who are pregnant, locate and access the support they need to build independent and healthy families.
"We take pride in helping women to develop the leadership qualities necessary to become a great role model to their children," said Stephanie Parr, Moms family support specialist. "Today's mothers have many challenges and providing them with encouragement makes all the difference in the world."
Moms Taking Charge is a collaborative effort with Healthy East Chicago, Haven House, Salvation Army, Plazas Communitarias, East Chicago City Court and Healthvisions Midwest, Inc.
The funding for this program is provided by the Foundations of East Chicago.
For more program information, to make a referral, or to schedule an intake appointment, call 219-354-8089.
This article was originally published in The Northwest Indiana Times.
Prenatal Helpline
by Lillian Torres; REACH/Alcance Program & Coalition
This is one of our many stories of empowerment. A phone call came in to the Prenatal Helpline that the Alcance program hosts as a service that assists pregnant women in accessing healthcare and provide community resource information in efforts to facilitate systems navigation. The mom called to inquire on interpreting services and transportation information. When she was asked if she was pregnant she said no. When she was asked if she had minor children at home she said "Yes I do, I have a 2 year old, a 3 year, a 4 year old, 5 year old, 6 year old, and 11 year old." Whew! She was then advised to call the number on the back of her Medicaid card which provides a line for Spanish speaking individuals and request assistance with transportation. When she called back she said she was able to obtain the transportation she needed. Also she said she didn't know that the line existed and was very happy with the services provided. It is the goal of the REACH/Alcance program to empower our community members.
Volunteer Spotlight
Ms. Johnnie Conrad has been a volunteer for the Faith in Action to Serve and Transform (FAST) Ministry more than four years. FAST assigned Ms. Conrad to a senior who is now 96 years old in October 2006 for friendly visits. They quickly became friends after their first meeting. Soon after Ms. Conrad was assigned to the senior she had to go out of town. FAST called the senior to see if she wanted another volunteer to visit her. She quickly said no and told us that she would wait for "Conrad."Ms. Conrad visits the senior each week and they sit and talk or do whatever the senior wants to do. When Ms. Conrad goes out of town and is unable to make the visits, she calls the senior to check on her. Sometimes the senior wants to get out of the house so Ms. Conrad will take her for a ride or they may go out to lunch to eat. Whatever the senior wants to do, Ms. Conrad is there for her. Ms. Conrad is committed to making a difference in the life of her friend who is old enough to be her mother. The love Ms. Conrad shows to the senior is shared by the senior. The senior no longer feels isolated and lonely and she knows that somebody cares including God through the ministry of Ms. Conrad. This is the love and compassion that Christ expects us to show and we all can learn from the example of Ms. Conrad. FAST and the senior are so blessed to have Ms. Conrad as a volunteer. Mrs. Conrad is a member of St. Augustine of HIPPO Catholic Church. She seeks not only to help the FAST seniors but others in the community that she can help make a difference in their lives. To that end, FAST would like to commend and spotlight Johnnie Conrad as our volunteer.
REACH U.S. Technical Assistance Workshop
Raquel Castro and Sr. Margaret Anne Henss, PHJC attended the annual REACH U.S. Technical Assistance Workshop in Atlanta, GA. on March 9-11, 2011 They were one of four presenters at the conference highlighting the REACH/Alcance program in Lake County.
REACH stands for Racial and Ethnic Approaches to Community Health. REACH grantees from across the country gathered to share their accomplishments in eliminating health disparities in their local communities. Here at HealthVisions, Raquel and her staff are working at decreasing infant mortality among Hispanic women. A key component of the program is providing medical interpretation between provider and client.
In the past year the focus of the grants has moved from purely "hands-on" to "systemic change." HealthVisions Midwest REACH/Alcance program was chosen to give a poster presentation showing change in the grant focus. The poster was entitled "From Grassroots to Grass-is-Greener: Assembling the Mechanisms for Systems Change. The poster emphasized that three intervention levels are necessary for successful, sustainable change:
Individual Support Services-Community Health Workers (CHW) provide medical interpretation for individuals;
Improve community practices-Partnerships expand local language access and medical interpretation;
Advocate for systems change through policies and procedures-Submit state language access policy agenda and Medicaid reimbursement for interpreting services.
Raquel Castro, director of Alcance and Susan Pound, Project Consultant are pictured here with the Surgeon General Vice Admiral Regina M. Benjamin, MD, MBA holding the poster used for the presentation.
(L-R: Raquel Castro, Director of Alcance Program; Regina M. Benjamin, M.D., M.B.A. -18th Surgeon General of the United States Public Health Service; Susan Pound, Project Consultant)
"All My Days" Summer Youth Camp
"All My Days" Summer Youth Camp sponsored by Faith in Action to Serve and Transform (FAST) ministry impacted the care receivers in our community this summer by providing volunteer services. The campers provided yard work, light housekeeping, assisted transportation, friendly visits and telephone reassurance. FAST also provides transportation to care receivers 60 years of age and above. The youth assisted the care receivers to the doctor, cleaning basements, cutting grass and pulling weeds in yards. "Many of our care receivers are not able to walk for long periods of time and the campers didn't hesitate to assist them during transports," says Carol Toller Program Manager for FAST and Director of the summer youth camp. Care receivers are transported to the doctor and need assistance getting in and out of the vehicle or someone to stay with them while they are at the doctor's office. The youth were willing and ready to go along and friendships between our care receiver's and campers were formed.
"Many times we hear the negative things about youth, seldom the positive. We hear about how well they play basketball or run track, but never doing anything that make a difference in the life of someone else. Many of our youth don't have anything to do during the summer and can't afford to pay for summer camps. Our program served both youth and care receivers in the community. This camp was different from other camps in that it was intergenerational in nature. It was an opportunity for youth to learn wisdom and respect for others. Our care receivers are who we learn from. Our care receiver's are full of wisdom and can teach us many things.
Their stories are amazing and so many of them have experienced things in life that we will never have an opportunity to see. Our name "Faith In Action to Serve and Transform" says it all. "We are walking by faith and seeing the lives of so many individuals transform. God guides this ministry and because we try to be obedient at all times to His will we are blessed to have volunteers like our youth to show the greatest and most memorable emotion which is "LOVE", says Carol Toller. Thanks to Community Development Block Grant (CDBG) of East Saint Louis and Ashl Dunet for providing us with the funding necessary to provide these services to our community.
No Answers Yet For High Infant Mortality Rate In Allen County
Story by John W Davis
FORT WAYNE, Ind. (Indiana's NewsCenter) - Organizers say the goal of a special town hall meeting held Tuesday Night was to increase community awareness, so fewer minority infants die each year in Allen County.
It has been studied by researchers as far away as Wisconsin.
African-American infants are dying at alarming rates in Allen County.
According to a University of Wisconsin report, African-American infant mortality rates are 30% higher in Allen County than in foreign countries like Honduras, Indonesia and Nicaragua.
Allen County health commissioner Dr. Deborah McMahan echos that data.
Dr. McMahan says in 2006, 31 African-American babies out of every 1,000 live births died before their first birthday.
Nationally, risk factors like low birth weights, SIDS, and a lack pre-natal care cause most infant deaths.
However studies in Allen County have shown none of those issues were factors locally.
"We want to educate. We want to identify resources that are available in the community. We also want to form an ad hoc committee to address the issue with an on going effort to find solutions and close the gap," said Jomare Bowers-Mizzell, who is a Project Coordinator for Health Visions, the faith-based community health organization that sponsored Tuesday's town hall meeting.
The infant mortality town hall meeting was held at the Allen County Public Library Pontiac Branch.
Dr. McMahan says she plans to partner with medical professionals and Health Visions to create a community task force.
They hope to figure out why local infants are dying before their first birthday and identify local resources mothers with young infants.
---
This article was originally published in INCNow.
Self-Managing Diabetes
Diabetes can lead to serious complications, such as blindness, kidney damage, cardiovascular disease, and lower -limb amputations, but people with diabetes can lower the occurrence of these and other diabetes complications by controlling blood glucose, blood pressure, and blood lipids. HealthVisions program, "Empowering Fort Wayne Communities to Self-Manage Diabetes" is doing just that for the Black community through a grant from the Saint Joseph Community Health Foundation. The goal is to increase awareness, provide education on how to manage diabetes, and pilot data collection tools. The long term goal is to reduce diabetes related complications, and improve the quality of life of medically underserved African Americans living with diabetes in Allen County. Diabetes disproportionately affects the African American community.
The target audience includes African American adults 18 years of age and older from underserved families living with diabetes in Fort Wayne, Indiana. The Executive Director, Renetta Williams and the Community Health Educators: Lillie Caldwell, DaVita Mitchell, Peggy Hayes, and Jomare Bowers-Mizzell, Project Coordinator were ready for the challenge. The first class was held on August 24th, 2010 at True Love Missionary Baptist Church with 14 participants enrolled. The church provided space and light snacks.
The class met once a week for 2 ½ hours for six weeks. First semester nursing students from Indiana –Purdue Fort Wayne (IPFW) came to two of the classes and took blood pressures at the start of class and after a relaxation tape. They were able to monitor and track blood pressure changes. Participants were encouraged to self track medications and results of health screenings by using a health guide book to record dates.
On September 28, 2010 we graduated 14 participants from the diabetes program. HealthVisions staff prepared food using diabetic recipes. All participants received a certificate and a small gift of appreciation for taking on the challenge to self-manage their diabetes and living a healthy life.
A second class was held on September 30th - November 4, 2010 at Turner Chapel A.M.E Church offering morning and evening classes. Fourteen (14) participants attended the classes, including the pastor. Chris Moore a Clinical Dietitian, from Parkview Hospital, presented a class on diabetes. All participants received certificates and celebrated with food using diabetic recipes. All classes received recipes of the food prepared. The participants are testing more, eating healthier food, exercising, taking better care of themselves and sharing their success with others
Genesis Outreach of Fort Wayne
Over the past quarter, Genesis Outreach of Fort Wayne has been working aggressively to acquire 40 properties to initiate the Promising Partnerships permanent supportive housing project. To date, 33 properties have been identified. The last 7 properties will be acquired and rehabilitated through the use of local Neighborhood Stabilization Program funds. The first phase of properties (13) will be ready for occupancy by February 1. Currently, two families are temporarily occupying two units on an emergency shelter basis.
One unit was completed in August 2010 utilizing local HOME funds. A graduate of the Genesis PLUS program was reunified with her kids in that home and she continues to maintain her sobriety, as well as receiving a promotion at her place of employment. She completed 19 months in the program.
As of this month, two other women have been reunified with their children in permanent housing. One mother has 7 children, all of which have been returned to her custody and she is currently a student at Ivy Tech State College. She completed 18 months in the program. The other mother is gainfully employed and has returned to Noble County with her daughter where she is working and living. She completed 11 months in the program.
One man graduated from the MASS Program. He is currently employed by Genesis Outreach through the workforce development program and is working on the Genesis maintenance team. He will also work as a construction apprentice on the upcoming housing rehabilitation projects. He is in permanent housing and has regular visitation with his child. He completed 18 months in the program.
Grants have been awarded from the following organizations:
$10,000 Good Works Indiana Grant (reimbursable)
$14,000 PNC Foundation Grant
$28,304 Indiana Emergency Shelter Grant (reimbursable)
$691,000 HUD Supportive Housing Grant (3 years reimbursable)
Maternal Child Health Program
On occasion we have opened our doors to the student nurses from Brown Mackie College, located in Merrillville Indiana. Through the mentoring rotation of their course, they have come to our East Chicago office to experience a different side of nursing.
The student nurses spend an average of ninety hours with us. This is usually completed in less than three weeks. They shadow the community health worker and the prenatal care coordinators and get the opportunity to see that nursing is not only in a hospital setting.
While at our office they are a great asset when it comes to getting all of our materials ready for our new enrollees. This includes: putting together client charts, educational packets, making copies of all necessary materials, and even passing out flyers throughout the community. We also found them to be a great help in the preparation of our community baby showers. Thank you to all the student nurses from Brown Mackie College!
Fort Wayne Volunteers
HealthVisions Fort Wayne volunteers are the lifeline to several programs and services offered to the poor and underserved in the community. We have approximately one hundred volunteers that provide services for all our programs.
We use volunteers in the Prevention Clinic as certified medical translators to the Latino Population. We also have volunteers in the Self- Management of Diabetes Program. These volunteers are certified Community Health Workers who provide diabetes education, support, advice and guidance to participants for the self management of diabetes.
In our Faith In Action Program we have seven church congregations that provide a volunteer coordinator and volunteers to give supportive care services to seniors and individuals that are disabled, suffering from long-term disabilities and home bound. These services include telephone reassurance, light house work, friendly visits, yard work, shopping and reading.
HealthVisions Fort Wayne salutes our volunteers. God bless each and every one of the volunteers and their families. Renetta Williams
Many Hoosiers Still Lack Health Coverage
by | The Journal Gazette
The number of Hoosiers without health insurance changed little leading up to the economic collapse, but local officials have little doubt those numbers have climbed in the past two years.
Indiana ranked 15th in the nation in 2007 for residents with health insurance, according to the most recent U.S. Census Bureau figures. An estimated 13 percent of Indiana's population younger than 65 had no health insurance, down from about 14 percent in previous years.
The lowest uninsured rate was 7.8 percent in Massachusetts; Texas was highest at 26.8 percent, according to the data.
Allen County estimates have remained unchanged in recent years, with 13.8 percent of residents uninsured in 2007, according to the data.
While the numbers do not reflect the possible effect of the recession, they are not a good sign, said Dr. Deborah McMahan, Allen County health commissioner. She noted that 16.2 percent of Allen County residents ages 18 to 64 were uninsured in 2007.
"These numbers were pretty depressing," she said. "Just think about that, 16 percent of residents 18 to 64, that's a lot of people now."
Indeed, that's 35,118 Allen County adults. The total number of uninsured county residents younger than 65 is 42,863.
McMahan is also concerned about those who have insurance but are on plans with high deductibles, which will make them less likely to seek preventive care, she said.
She fears people who need to see the doctor for diabetes treatment or to get a colonoscopy will forgo those visits. People will make sure they get their medicine but will not get preventive care, she said.
"You worry about those things starting to lag," McMahan said. "You're not going to see it for a few years, but you will down the road."
Meanwhile, places such as HealthVisions Fort Wayne, a health improvement organization started by the Poor Handmaids of Jesus Christ, are seeing an influx of the newly uninsured asking for help.
"It's not only the poor and underserved; it's hitting the middle class, as well," said Renatta Williams, director of the Fort Wayne facility.
HealthVisions provides some preventive health services for the needy and also can direct people to where they go if they are sick.
When the recession started, the organization began getting more and more calls from people who needed help.
"We get lots of phone calls from people who just don't know where to go, people who got laid off and do not know where to go," Williams said. "We try to keep them healthy, and if they're sick we refer them to somewhere else."
Other Northeast Indiana counties – including Kosciusko, Noble and Adams – had a dramatic decrease in the number of people without health insurance leading up to 2007, but it's unclear how the economy has affected those numbers.
Under a new law that will begin in 2014, almost all Americans will be required to buy health insurance or pay a penalty tax. The Obama administration has estimated that the law, aimed at people who cannot afford or obtain coverage, will help 32 million people get health insurance, according to the Washington Post.
The data released by the Census Bureau combines survey data with population estimates and information from aggregated federal tax returns, the food stamp program, and Medicaid and Chldren's Health Insurance Program records.
This article was originally published in The Journal Gazette.
Being a kid … tougher than it used to be
by | The Journal Gazette
It's a bad time to be a child in Allen County.
Statistics compiled by the Indiana Youth Institute show the percentage of children facing problems from poverty to violence is up, while the percentage of children with advantages such as quality day care and two-parent families is down.
And those statistics only date to 2007, before the recession began. As the national economy collapsed, officials say, the problems facing many children became even worse.
"I think all people are suffering regardless of age," said Bill Stanczykiewicz, president and chief executive officer of the Indiana Youth Institute. "If Dad loses his job, it's excruciatingly difficult for him and his entire family, including the children."
The statistics were compiled from a broad range of sources by the Indiana Youth Institute, which provides resources for Indiana agencies that promote the healthy development of children.
Certainly, not every child in Allen County is at risk, and the vast majority will enjoy a healthy, financially secure childhood. But the number of children for whom the basics in life are no longer a given is growing, and the community's ability to help those children is diminishing.
The safety net – already overwhelmed before the recession – has been getting bigger holes.
"There's no doubt we're in a time period that because of the struggling economy, there are more people in need of service and fewer dollars to provide that service," Stanczykiewicz said. "That's true for both private dollars and government."
'Staggering' stats
Even before the economy imploded and jobs dried up, the number of Allen County children in poverty was growing.
From 2000 to 2007, the monthly average number of families issued food stamps more than doubled, to 32,294, and the monthly average number of families receiving Temporary Assistance for Needy Families benefits increased 50 percent.
Meanwhile, the number of Allen County children who met the government's definition of poor rose from more than one in every 10 to nearly one in every six – and the government's definition of poverty has been criticized for decades as far too low.
"Those poverty numbers are pretty staggering," said Joseph Conrad, executive director of Community Action of Northeast Indiana. "We're looking at – using official figures – close to a quarter of the people in our communities are in poverty."
CANI serves LaGrange, Steuben, Noble, DeKalb, Whitley and Allen counties, with a combined population of about 542,000. Conrad said that in 2000, 122,651 of them – 24 percent – live below 200 percent of the federal poverty level, which he said is a figure much closer to the level at which a family can afford its basic needs.
"If that was the case in 2000, and it was much worse in 2007, Lord knows what it is right now," Conrad said. "And that number's for our entire service area. There are pockets of Allen County where over two-thirds of the population is in need of assistance just to meet basic needs."
There is also the percentage of children receiving free lunches at school: That number rose from almost one in every six to more than one in four – 26.3 percent of Allen County children received free lunch at school in 2007 and an additional 6.7 percent received reduced-price lunches. Even those numbers are believed to be low, however, because many children who qualify for free or reduced-price lunches do not accept them.
Stanczykiewicz said children often are not getting the help they are entitled to.
"One of the keys to this is we need to ensure all the kids who are eligible for these various programs are enrolled, whether it's Medicaid, free lunch or whatever," he said. "For the 21st Century Scholars program (which can give Hoosier children a free college education), they estimate as many as half of the eligible kids are not enrolled."
If there is a silver lining to the list of depressing numbers, however, it is this: The number of Allen County children enrolled in Hoosier Healthwise – a health insurance program for the poor – has more than doubled from 2000 to 2007.
Unhealthy starts
The increase in children enrolled in the state's health program has not stemmed other problems, however.
The percentage of low-birth-weight babies born to Allen County mothers rose from 7.8 percent in 2000 to 9.5 percent in 2006. Low birth weight is an early indicator of an increased risk for serious health problems in newborns, lasting disabilities and even death, according to the March of Dimes. Nationally, the group says, about 8 percent of babies born have low birth weights.
The number of mothers who reported smoking during pregnancy dropped during the same time period, but it was still nearly one in every six. The number of mothers who received prenatal care during the first trimester of their pregnancy was also up, but even then almost one in every five did not.
In the meantime, the percentage of babies born to unmarried mothers in Allen County rose from almost 35 percent to more than 40 percent.
"This is not to damn (single parents), because certainly children can succeed in a single-parent family, and two examples of that are the president of the United States and the newest Supreme Court justice," Stanczykiewicz said. "But statistically, the fastest way to poverty is to live with a single parent."
And while the number of Allen County children in Hoosier Healthwise is up, it is nowhere near the number of people who have lost their jobs and now have no health insurance or have coverage that is in jeopardy, said Renetta Williams, executive director of HealthVisions of Fort Wayne, a non-profit dedicated to reducing health disparities.
"We're seeing more and more people who are unemployed and more and more people who do not have health insurance. It is impacting families," Williams said. "Another thing we're seeing is the number of people who need mental health care" but can't get it because they don't have insurance.
'Desperate things'
"We believe there is hope, and when you have hope, you continue."
Renetta Williams
HealthVisions of Fort Wayne
Experts have long known that the fastest route out of poverty is education. But the numbers for Allen County on that front are grim, too.
The number of licensed child-care spaces per 100 children up to age 4 dropped slightly between 2000 and 2006, from 22 spaces per 100 kids to 21.8.
And while the number of children in poverty was growing, the number getting child-care vouchers – a state program to pay for child care so parents can work – dropped by 32 percent, to 4,592. The average number of children on the waiting list for those vouchers, however, increased 26 times, to 380.
"The federal dollars that provide voucher money has been frozen for more than 10 years," said Pam Leffers, program director at the Early Childhood Alliance. "It's really a horrible situation. Plus, the eligibility rate is so low, it's really only the sub-sub-working poor that qualify."
Leffers said licensed child care has many advantages over unlicensed care, but those advantages often mean a higher cost.
"Families are just not able to afford right now what they'd like to have (in child care)," Leffers said. "So they're making do with situations they might not be comfortable with."
CANI's Conrad worries about what could happen if the current trends continue.
"You gotta ask yourself the question, how can a community sustain itself with those kinds of numbers? When you're looking at situations where two-thirds of the population can't sustain itself and meet their basic needs, how long will they remain at peace?" Conrad said. "What is the price of doing nothing? People who are in despair do desperate things. When your kids are hungry, you do things you wouldn't normally do."
At the same time, there is hope, because every day, officials see incredible generosity from those in the community still able to assist their neighbors.
"That's the uplifting part," Conrad said. "People really do help."
HealthVisions' Williams has seen the same thing.
"It's more people with less resources. That's what we see on a daily basis," she said. "But we believe there is hope, and when you have hope, you continue."
This article was originally published in The Journal Gazette.
Minnesota Dream Team
Seven volunteers from Minnesota and one from Wisconsin made up the 2010 Minnesota dream team. They joined Sr. Annemarie and Angie Martin from the Hammond office, and Tyneshia Wikinson and Brandon Vaughn ESL volunteers to help the staff at HealthVisions East St. Louis move to their new offices in June.
"Reaching out to those in need was exemplified though the Minnesota volunteers who worked untiringly to make our move bearable"
We are all convinced that the work that we do here in East St. Louis is ordained by God himself, not only did God send us volunteers but volunteers with the talent to make repairs, clean floors, upholster furniture and perform many other duties. We were so impressed with the energy level they displayed it was even difficult to get them to stop and eat lunch or just take a break. Without the Minnesota volunteers we would not have been able to continue transporting our care receivers, because we would have had to take time off to move. We salute the Minnesota volunteers and want them to know that we were so blessed by their willingness to help. There will always be a special bond between us. Hannah Brown HVESL
Bob Peichel, the organizer (or Boss Man as he is often referred to) had this to say: "Thanks to the PHJCs, their associates and staff for all you do for so many day in and day out. It is a privilege to be able to assist you in your ministries. You are my heroes."
Some of the volunteers from Minnesota were former students of Sr. Annemarie. This is their 9th year of volunteering at PHJC ministries. They stayed at the homes of Associates Alice and Leo Kerkemeyer and their son Don and his wife Peggy. Thank you!
Her Story, Her Calling
Ms. Princella Cotton initially completed an application for the Faith in Action to Serve and Transform (FAST) Ministry as a care receiver to be transported to the doctor, grocery store, pharmacy, etc. However, she did not remain a care receiver for long. She soon became a volunteer. Ms. Cotton is very well known in this area for her wonderful singing voice. She has traveled to many local churches singing songs of praise for worship services and programs.
One of our missions at the FAST ministry is to reduce isolation and loneliness among our care receivers, and the staff soon found a way for Ms. Cotton to help do that by calling, singing and encouraging others. Ms. Cotton readily agreed to reassure other care receivers via the telephone (telephone reassurance). Since she became ill, she is no longer able to travel.
Whenever we talk to her she is always smiling and willing to take on yet another care receiver to call during the day. She states that she enjoys talking to people and does not plan to stop singing until the Lord calls her home. She often talks about having the first stroke that left her unable to speak clearly, however she did not give up and the Lord restored her voice back to the way it was before she had the stroke. She always gives God the glory for her recovery. FAST would not be able to reach as many elders without people like Ms. Cotton who is willing to help others in spite of her own challenges.
Area Senior Receives Funding For Home Repairs
Ms. Bruce became a care receiver of the FAST Ministry February 2007. She was in need of minor home repairs and yard work. Case managers assessed her home and discovered that she needed major home repairs instead of minor. Ms. Bruce did not have home owner's insurance due to the deteriorating condition of her home.
In July 2008 we wrote a letter for home repairs to the Intergovernmental Grants Home Modification Program for assistance. FAST Ministries Case Manager, Ms. Kathryn Jones, advocated relentlessly on behalf of Ms. Bruce and in April 2009 she was awarded a grant in the amount of $22,820 to replace her entire roof, sixteen windows, the gutters, down-spouts, kitchen and the replacement of her bathroom floor. The Lead Hazard Reduction program found lead in the paint on her windows so the windows were replaced. Her bathroom now has a roll in shower, her kitchen has a new ceiling, and the back door and porch were replaced. Vance Improvement Corporation completed the repairs in September 2009.
Due to prayer and many referrals, her prayers were answered and she is now able to remain safely in her home. Ms. Bruce appears to be very happy with the repairs done on her home. FAST ministry salutes all those involved in the success of allowing this area elder to remain in her home.